Even though it is 2017 and internet is accessible to many, understanding the concept of sexuality is not always easy. While few of us are fortunate enough to know our preferences from the very beginning, there are many who are still struggling to find theirs. However, figuring out is not the only challenge, coming out to your friends and family is equally difficult. Informing your parents about your sexuality, which may not confine with the traditional norm, is surely a scary task. However, these parents handled their son's confession, which wasn't direct, in the most understanding way ever. After overhearing his son's conversation on the phone with his 'boyfriend', about the son wanting to come out to his parents, a father decided to write a sweet letter of acceptance with a touch a humour. The note said,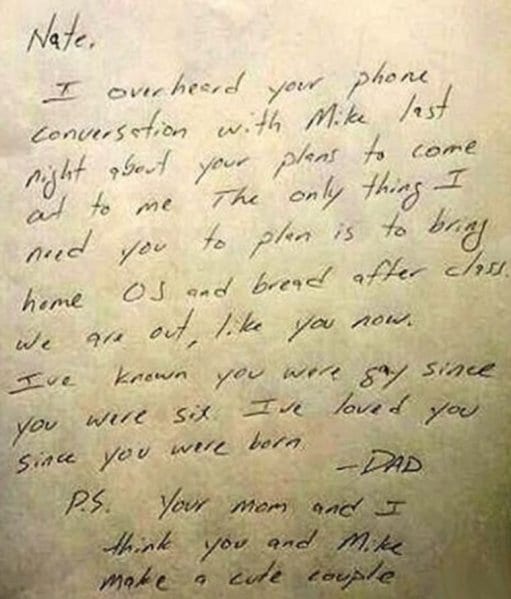 "Nate, I overheard your phone conversation with Mike last night about your plans to come out to me. The only thing I need you to plan is to bring home OJ and bread after class. We are out, like you now. I've known you were gay since you were six. I've loved you since you were born. – Dad. P.S. Your mom and I think that you and Mike make a cute couple."
It is interesting to see how these parents chose to keep the 'coming out' as a natural process. Moreover, the letter also shows a funny side of the parents, who in a way did know about their son's sexuality. According to Daily Mail, the letter was first published on the Facebook page of FCKH8.com and was sent to them via Nate himself.